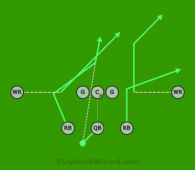 Wide receivers motion into the tackle position with one running a quick slant. The same side running back then fills underneath the slant while the opposite side receivers run sideline routes.
| | |
| --- | --- |
| QB | Look for the quick slant to the wide receiver. If that's not there, look to the running back running a slant behind him or the opposite side receivers running sideline routes. |
Motion Quick Slant is an offensive 8 on 8 flag football play from the Shotgun Balanced Wide formation and is authored by Football Coach. For football play drawing software or to see this play in action head over to footballplaysnow.com.