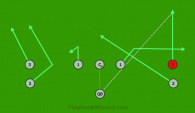 Quarterback fakes the slant to the right side (2) in the stack formation, then looks to the right side (3) running a fly route.
The check down is the Right (1) on a sideline route or the original (2) receiver across the middle.
"Zipline" (Fake Slant Fly) is an offensive 8 on 8 flag football play from Twins Stacked which is a This play is authored by Tom Loughman. For free 5 on 5 flag football playbook or to see this play in action head over to footballplaysnow.com.