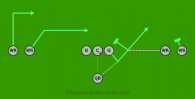 Quick hitting pass with the inside wide receiver motions down to block the guard's defender freeing the guard for a screen pass.
| | |
| --- | --- |
| QB | Look for the guard on the quick screen. If covered look to the backside wide receivers running ins. |
Guard Quick Screen is an offensive 8 on 8 flag football play from the Shotgun Balanced Twins Wide formation and is authored by Fantasy Football. For the flag football playbook or to see this play in action head over to footballplaysnow.com.