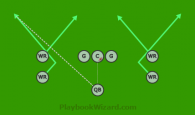 Stacked wide receivers run combo routes designed to pick off the defender for the back receiver and free him for a fade.
| | |
| --- | --- |
| QB | Watch how the defense sets up pre-snap and choose a side to focus on for the fade. If the fade isn't open, look to the opposite side receiver on the slant as a check down. |
| WR | Back receiver drive hard to the middle like this is a double slant then cut and run the fade. |
Cross Fade is an offensive 8 on 8 flag football play from the Shotgun Balanced Twins Tight Stack formation and is authored by Fantasy Football. For football plays playbook or to see this play in action head over to footballplaysnow.com.