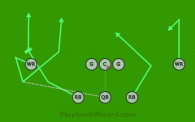 Quick screen to the wide receiver. If that's covered the next read is a wheel route to the running back on the same side. Third read is a slant to the other running back across the middle.
| | |
| --- | --- |
| QB | First read is the screen. If that's not open look for the running back on the wheel which should be open in the defense moves up to cover the screen. Check down is the running back on the slant across the middle or the opposite field wide receiver on the curl. |
| RB | If the defense doesn't move up to cover the screen block for the screen pass. If they do move up run the wheel and look for the ball beyond the first line of defenders. |
Shotgun Wheel Screen is an offensive 8 on 8 flag football play from the Shotgun Balanced Wide formation and is authored by Fantasy Football. For unbeatable flag football playbook or to see this play in action head over to footballplaysnow.com.